DBS AUTOMATION IS MORE EFFICIENT AND COST EFFECTIVE
Smart dried blood spot processing
Dried blood spot (DBS) sampling is on the rise. Whether for drug testing at the Olympic Games, Covid antibody testing, medication monitoring after a kidney transplant or other applications. Some laboratories even already take testing to the next level by using a DBS Autosampler™. Analytes within the spots of such a system show significant stability during transport and storage. DBS Autosamplers™ are the forerunners in fully automating their analytical process. Smart thinking.
DBS Autosampling offers interesting possibilites for a variety of applications, from regular new born screening to specific Covid antibody testing.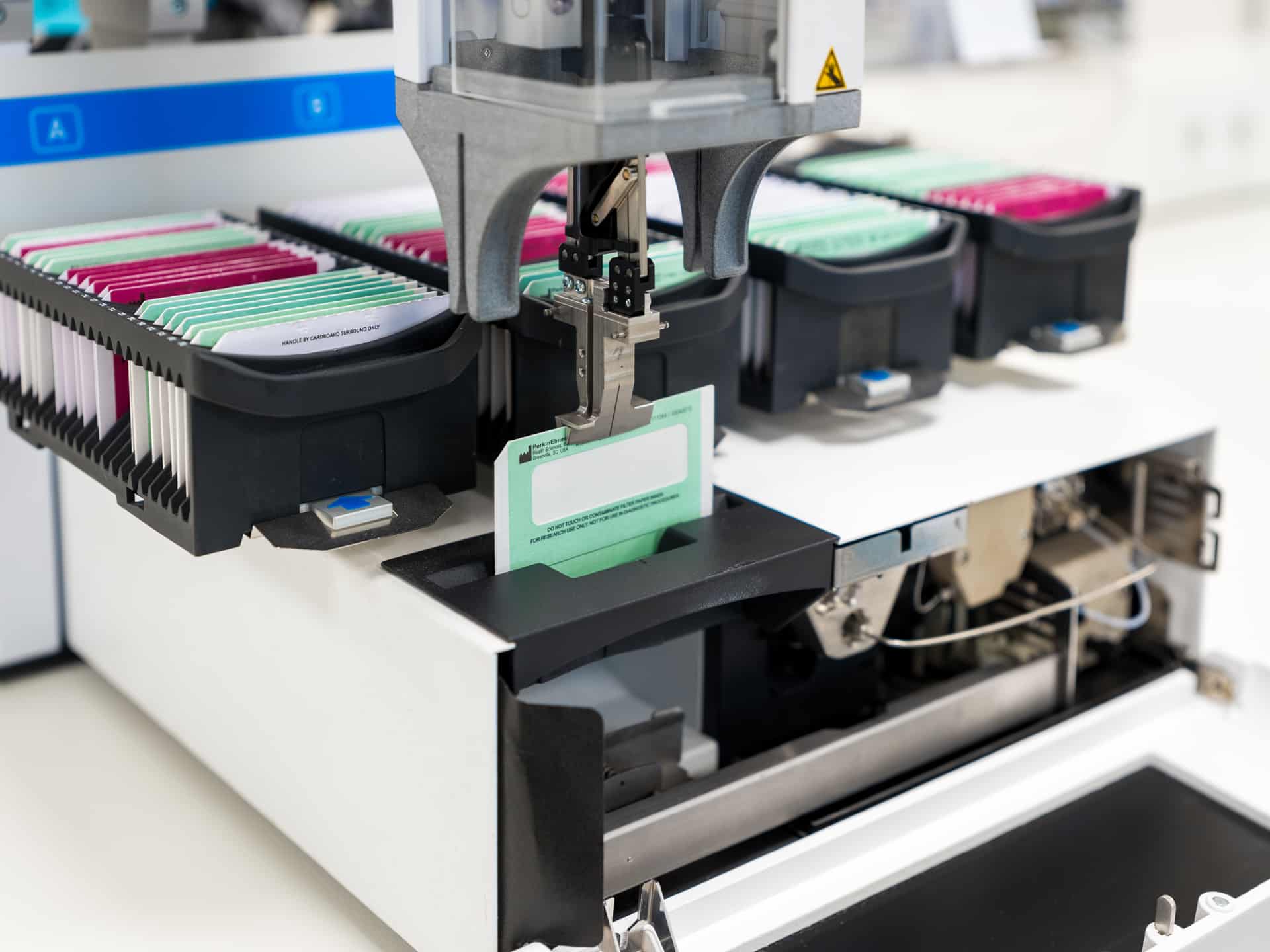 Why further automate the workflow in a clinical or pharmaceutical laboratory when it comes to dried blood spot testing? After all, since its introduction in the 1960s to screen new borns DBS sampling is still an emerging technology and many laboratories are familiar and satisfied with the way they perform DBS sampling.
They consider DBS sampling primarily to be a valuable and clinically validated alternative to conventional venous blood sampling, focussing on the significant advantages regarding easier sample retrieval, transport and storage, combined with more substance stability. It also offers patients to take their own blood samples, saving stress, transport costs and clinic resources. However, despite all advantages, manual DBS handling and analysis also has its limitations.
Increasing need for automation
The manual handling and analysis of DBS samples is prone to human error and is very laborsome, due to tedious manual punching discs for extraction. Besides, there is a growing need for automating DBS analytical processes as the scope and scale at which microsampling is needed grows rapidly, while demand peaks, due to massive virus infections, become more frequent.
Though DBS sampling is still an emerging technology for bioanalysis, which is increasingly becoming part of a laboratory's routine, demand is developing exponentially with many applications requiring a high sample throughput environment. In this situation, the manual handling of DBS samples can hinder laboratories from meeting the increasing and volatile demand for blood analysis. So, how to arrange a high-capacity and high-throughput workflow then?
Fully automated DBS sampling
The DBS analytical process seems difficult to automate. For repetitive laboratory operations, such as manual punching, certain commercial systems are available, including costly punching robots. They enable partial automation of the entire process. Some manufacturers however offer fully automated systems for a seamless workflow of laboratory bioanalyses. This equipment only requires to insert manually a batch of DBS cards, upon which blood samples are spotted. Analytes within these spots show significant stability during transport and storage. The insertion is followed by automated extraction, separation, and analysis, without further human intervention.
The use of DBS, in combination with automation, brings advantages. It simplifies the entire workflow, making previously labor-intensive analytical procedures more lean and efficient, resulting in both time and cost savings.
Spark DBS Autosampler™
The Spark DBS Autosampler™ from Spark Holland maintains the integrity of the sample through automation, offering more efficient, cost effective DBS sample processing. The DBS Autosampler™ uses no physically punching but introduces the blood spot (or other biological fluids) directly into the analyzer, thanks to the innovative, patented Flow-Through Desorption technology (FTD™) from Spark Holland. The instrument uses a flow-through, leak-tight clamp, allowing for an elution solvent to flush spot components directly into the desired analyzer (e.g., a (U)HPLC-MS/MS). By directly desorbing dried blood spots or dried matrix spots as a liquid sample, the instrument enables a completely automated and seamless workflow for DBS analysis. The fully-automated workflow procedure occurs in minutes, providing maximum analyte sensitivity without any manual intervention. Furthermore, the expandable capacity from a single card to a 96 card feeder allows for the unattended processing of 384 samples (4 spots per card) in a single run.
The revolutionary instrument has been developed for fully automated dried blood spot analysis, when coupled with a liquid chromatography-tandem mass spectrometry (LC-MS/MS) system. However, the instrument can also be applied offline using a fraction collector when it is necessary to add a component to the liquid sample before analyzing it, such as the amplification step in a PCR test. Since 2018 Axel Semrau GmbH & Co. KG is the trusted partner to offer several system configurations for the automated analysis of DBS cards, both offline as online.
Variety of applications
DBS Autosampling offers interesting possibilites for a variety of applications, from regular new born screening to specific Covid antibody testing. The World Anti-Doping Agency (WADA) has adopted DBS for anti-doping procedures. It considers DBS not only great for major events, such as the Olympic and Paralympic Games, and has decided on large-scale application during the Olympic Games of 2024 in Paris.
Another application is the use of DBS for patients who require regular (medication) monitoring to take their own blood samples in the comfort of their own home, saving patient stress, transport costs and clinic resources. This is the case, for example with patients who have undergone an organ transplant and need to take lifelong medication.
The implementation of a DBS Autosampler™ permits the maximum possible efficiency resulting in the highest sample throughput, leading to significant cost savings on consumables and labor.
Special advantages of Spark's DBS technology:
unique and patented FTD™ technology for sample preparation
different clamps for 2, 4, 6 or 8 mm spot sizes available
intelligent camera with image analysis software offers
accurate spot detection and positioning
Automatic internal standard addition
Find out all about our commitment, lead times, deadlines and cost of goods sold.
Experience the way we work and cooperate in order to reach your business goals.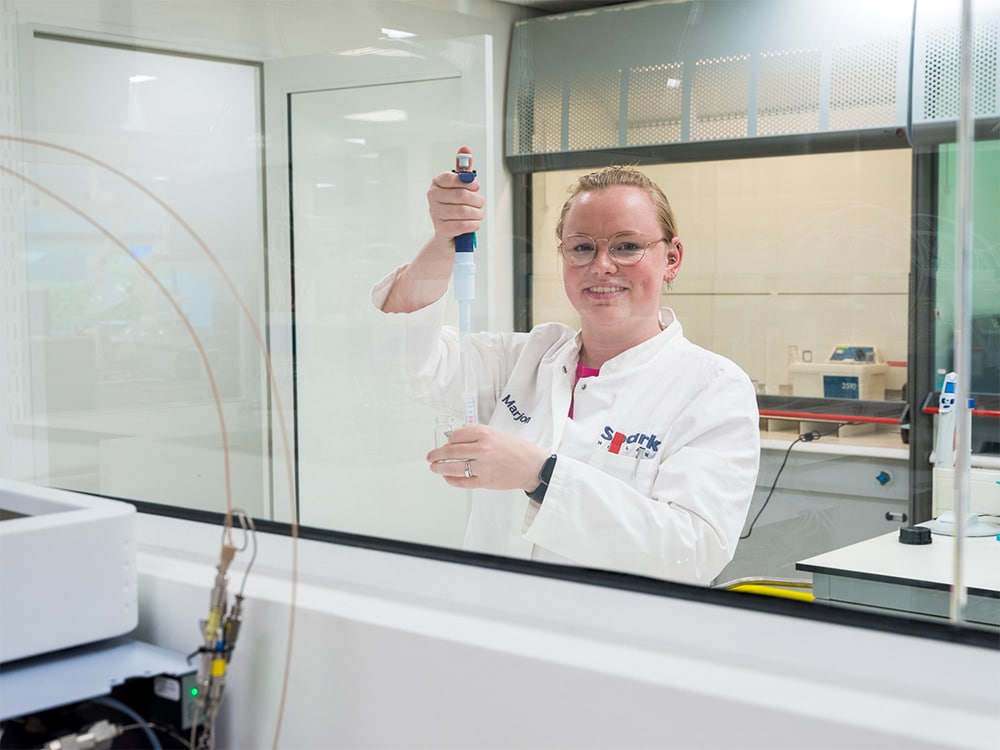 Technical training and support
Always going that one step further
In depth training ensures that your staff are able to service and maintain instruments and systems, based on clear procedures, using dedicated preventive maintenance kits and spare parts. And of course, our service team is always available to help.