AUTOMATED SAMPLE HANDLING ALLOWS A HIGH THROUGHPUT AND PRECISE SAMPLE DELIVERY
Sample automation for biosensor platforms
Biosensor technology is widely used in biopharmaceutical research as well as in biomedical diagnosis. Most biosensors make use of a chip or flow cell for detection in combination with microfluidics. However, sample introduction is still a challenge and is often executed manually, with all its shortcomings. Therefore, certain suppliers of laboratory analytical equipment apply an automated sample preparation system with a modified flow path for low system pressures in their platform.
The implementation of an automated sample preparation system for biosensor-based research permits the maximum possible efficiency resulting in the highest sample throughput, leading to significant savings on cost per sample.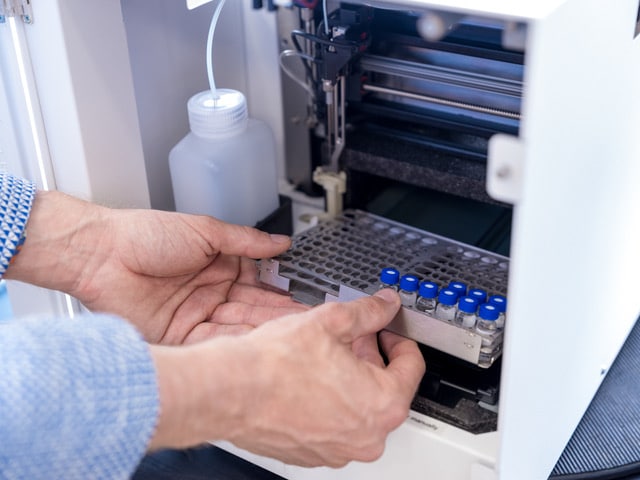 Biosensor technology
In a biosensor, the bioreceptor (enzyme/antibody/nucleic acid) is designed to interact with the specific analyte of interest with high selectivity. The general aim of a biosensor is to enable quick and convenient testing in a wide range of applications, such as disease monitoring, drug discovery or detection of pollutants. Besides the variety in bioreceptors, biosensors can also be classified by their biotransducer type, e.g. electrochemical biosensors or optical biosensors. Widely adopted biosensor technologies are for example Surface Plasmon Resonance or Electrochemical Detection.
Workflow automation
Autosamplers are widely used for High Performance Liquid Chromatography (HPLC), as they are designed to inject precise and accurate sample volumes. However, when equipped with a modified flow path configuration, they are also ideally suited for alternative sample separation or detection technology, including automating analytical processes for biopharmaceutical purposes. So an automated sample preparation system can be the next, low-level, step in further automating the workflow of laboratory bioanalyses.
Alternative flow path configurations
Most of the biosensors are operated at pressures up to 100 psi where sample integrity is important. For that reason, the autosampler flow path configuration is usually different compared to the (U)HPLC variant. The use of biocompatible materials, like PTFE or PEEK, are important to minimize the interaction of the analytes like peptides and proteins with the flow path. Also, the optimization of the flow path design needs special attention. Depending on the requirements of the biosensor, the flow path of the automated sample preparation system can be equipped with different syringe volumes or tubing ID.
Automated sample preparation system
As described above, most biosensors operate at low pressures. In those cases, the autosampler can be used to aspirate the sample from the vial into the buffer tubing. After switching the injection valve, the syringe will dispense the sample towards the biosensor. This will result in an accurate sample volume dispensed towards the biosensor. For some applications a constant flow of analyte is required, for example, to determine the association or dissociation rate with SPR. In those situations the autosampler syringe can be used to deliver the analyte flow towards the biosensor. Besides sample injection, the autosampler can also be used to dilute analytes by a fixed factor and add reagents, if desired.
Furthermore, it is possible to integrate a special temperature control to keep samples at a certain temperature.
Advantages of automated sample prep
With its simple flow path configuration, the Spark Holland autosampler addresses the shortcomings of manual injections or complex system configurations. By minimizing human intervention, margins of error are reduced. Repeatability is guaranteed because each analyte is treated in exactly the same way. Automated sample dilution or reagent addition will bring the human intervention for sample handling to a minimum. The software makes it possible to apply different methods and set up a different method for each sample, automatically. Because of this efficient and reliable operation, the custom automated sample preparation system saves a lot on cost per sample and ensures data consistency.
Integrating and implementing automated sample prep
The autosampler for biosensor platforms is available in a stand-alone version, to be connected to a biosensor. By reengineering it is also possible to integrate the automated sample preparation system into the analyzer, which contains the biosensor, into one compact device and thus save space in the laboratory environment. In either case, because of the flow path simplicity the autosampler is easy to operate for sample handling with a minimum of instructions. This leaves no reason not to equip your biosensor with an autosampler that injects the analytes with great precision and integrity. The implementation of an automated sample preparation system for biosensor-based research permits the maximum possible efficiency resulting in the highest sample throughput, leading to significant savings on cost per sample.
Special advantages of Spark's sample automation technology:
high throughput
repeatability is guaranteed
precise sample delivery
dilution of samples and addition of reagents
temperature controlled sample storage
maximum flexibility in flow path options (tubing, coating, etc.).
Find out all about our commitment, lead times, deadlines and cost of goods sold.
Experience the way we work and cooperate in order to reach your business goals.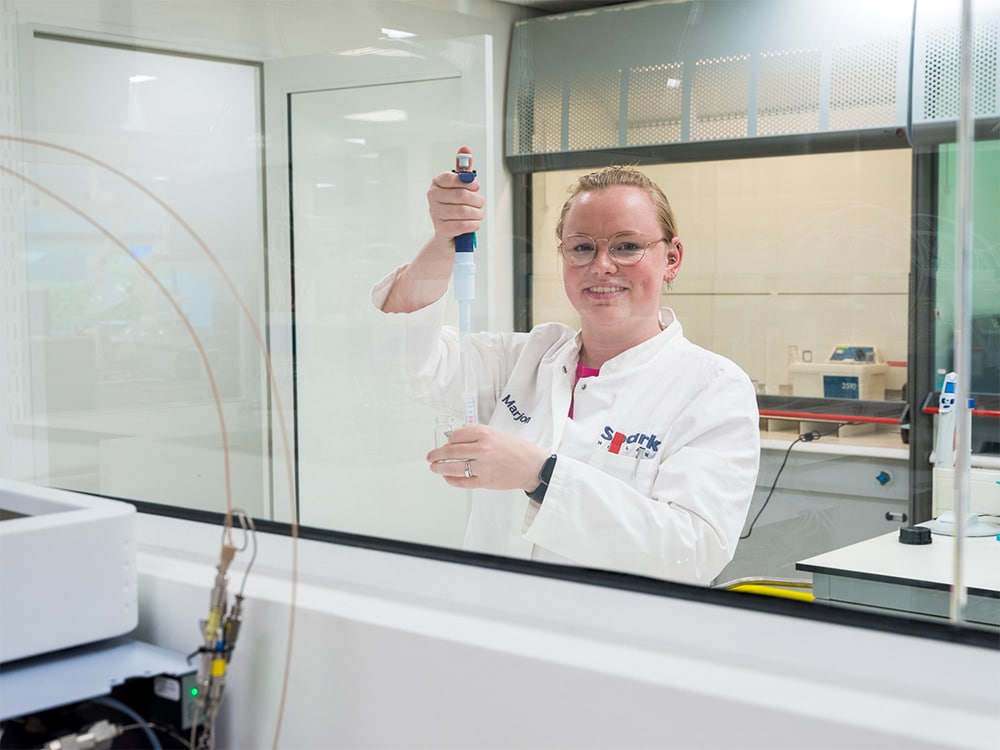 Technical training and support
Always going that one step further
In depth training ensures that your staff are able to service and maintain instruments and systems, based on clear procedures, using dedicated preventive maintenance kits and spare parts. And of course, our service team is always available to help.